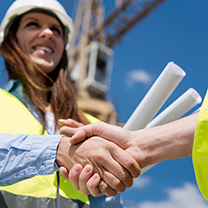 For decades the CEA CNY has enjoyed harmonious relationships with the building and construction trades' unions across a 14 county region of central and Northern New York and the Mohawk Valley.
The primary role of the Association is to provide labor relations services to the construction industry and general public for which construction companies and labor unions serve.
The Association's labor relations services include:
Meeting with contractors to identify matters of importance to employers hiring union members;
Engaging with union officials to provide solutions to often complex issues adversely affecting signatory employers, project owners or union members;
Resolving disputes between a signatory contractor and union;
Participate in the grievance hearing process;
Complying with the provisions of the National Labor Relations Act during collective bargaining and labor negotiation meetings;
Working collaboratively with union officials on other issues of importance to the construction industry, such as legislative matters or Project Labor Agreements;
Appointing employer trustees or their representatives to 24 union pension, health, annuity and training funds;
Participating in union apprentice interviews;
Working with the National Labor Relations Board (NLRB) as needed;
Supporting a wide variety of union initiatives;
Working with New York State Department of Labor, Department of Environmental Conservation, United States Department of Labor and other governmental agencies to address legislative, compliance and/or regulatory issues;
Hosting labor-management meetings in an effort to address industry issues impacting union membership, competitiveness, signatory employers, safety and other matters as determined by employers or union officials.
Much more as the industry continues to evolve and so do the complexities of unique issues that fall under the labor relations services of the Association.